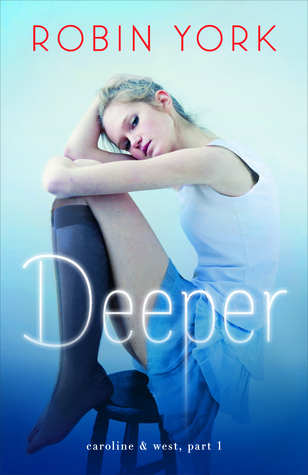 Series: Caroline and West Book #1
Format: Ebook
Rating: 5 Stars
How I Got It: Purchased
Genre: New Adult, Contemporary Romance, College
Publisher: Bantam
Synopsis courtesy of Goodreads
In Robin York's sizzling debut, a college student is attacked online and must restore her name—and stay clear of a guy who's wrong for her, but feels so right.

When Caroline Piasecki's ex-boyfriend posts their sex pictures on the Internet, it destroys her reputation as a nice college girl. Suddenly her once-promising future doesn't look so bright. Caroline tries to make the pictures disappear, hoping time will bury her shame. Then a guy she barely knows rises to her defense and punches her ex to the ground.

West Leavitt is the last person Caroline needs in her life. Everyone knows he's shady. Still, Caroline is drawn to his confidence and swagger—even after promising her dad she'll keep her distance. On late, sleepless nights, Caroline starts wandering into the bakery where West works.

They hang out, they talk, they listen. Though Caroline and West tell each other they're "just friends," their feelings intensify until it becomes impossible to pretend. The more complicated her relationship with West gets, the harder Caroline has to struggle to discover what she wants for herself—and the easier it becomes to find the courage she needs to fight back against the people who would judge her.

When all seems lost, sometimes the only place to go is deeper.
Review
I picked this up after hearing Sonali Dev rave about it on the DBSA podcast. She said it was an incredibly well written New Adult novel and I have to agree. The characters and writing are both great. And it should be no surprise that I would like an author who deals with things like slut shaming and revenge porn.
This story is told a little weird. The chapters alternate POV and are specific chunks of time. They also travel in forward and back in time regularly. Sometimes it was a little jarring or frustrating because I would want to know what a particular character thought about something. But I liked that it was just a little different from the other NA books I've read.
Caroline and West are both great characters. They are very well-developed and appropriately flawed. And I loved seeing them grow to believe in themselves and each other.
And I really like that Caroline has some good friends. Quinn and Bridget are so supportive throughout all of the horrible things that happen to her.
West seems like the stereotypical bad boy hero, but he isn't. He hides behind that image to protect himself. And he cares so much for his family and Caroline. I'm not a huge fan of violent/aggressive guys anymore but Ms. York does a good job of making his behavior understandable.
The ending was beautiful. I know there's a second book which I'm really excited about. But there's something tragically perfect about it. In so many ways this can be a complete story, just with the ending I wouldn't typically want.
So, thank you Sonali Dev. I've been meaning to read your books for a while and now I'll move them up on my list.
Thanks for reading!