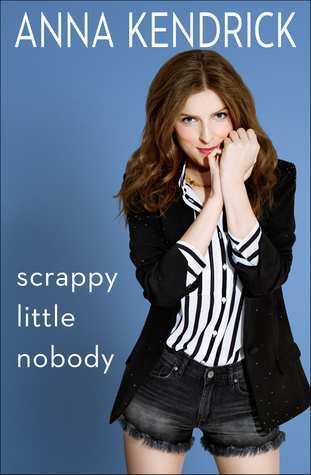 How I Got It:Borrowed from Library
Genre: Non-fiction, humor
Publisher: Touchstone Books
Synopsis courtesy of Goodreads
Even before she made a name for herself on the silver screen starring in films like Pitch Perfect, Up in the Air, Twilight, and Into the Woods, Anna Kendrick was unusually small, weird, and "10 percent defiant."

At the ripe age of thirteen, she had already resolved to "keep the crazy inside my head where it belonged. Forever. But here's the thing about crazy: It. Wants. Out." In Scrappy Little Nobody, she invites readers inside her brain, sharing extraordinary and charmingly ordinary stories with candor and winningly wry observations.

With her razor-sharp wit, Anna recounts the absurdities she's experienced on her way to and from the heart of pop culture as only she can—from her unusual path to the performing arts (Vanilla Ice and baggy neon pants may have played a role) to her double life as a middle-school student who also starred on Broadway to her initial "dating experiments" (including only liking boys who didn't like her back) to reviewing a binder full of butt doubles to her struggle to live like an adult woman instead of a perpetual "man-child."

Enter Anna's world and follow her rise from "scrappy little nobody" to somebody who dazzles on the stage, the screen, and now the page—with an electric, singular voice, at once familiar and surprising, sharp and sweet, funny and serious (well, not that serious).
I requested this audiobook months ago and my hold finally came through. And I loved this books. But that isn't much a surprise. I came in as a fan of Anna Kendrick and she was the one reading the audiobook.
This book was funny, inspiring, and a little random. I don't idolize celebrities, but I will admit to thinking of them as "different". But here life shows how normally they are. And I like knowing that at least she isn't completely comfortable with everything.
It was weird how much I connected with her. I'm also an expert grudge holder. And I feel like a weirdo a lot of the time. She's also pretty inspiring. Even though she was scared she continued to push for her dreams.
I'm really glad I read this and I want to buy a physical copy or get it for Christmas.