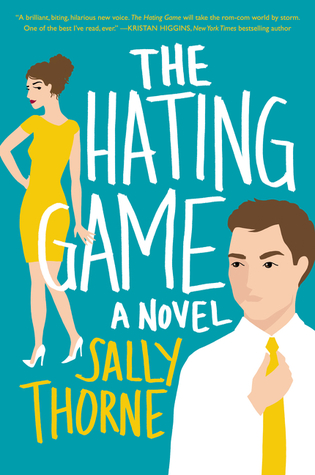 How I Got It: Library (I have since purchased it)
Genre: Romance, Contemporary
Publisher: William Morrow
Synopsis courtesy of Goodreads
Lucy Hutton and Joshua Templeman hate each other. Not dislike. Not begrudgingly tolerate. Hate. And they have no problem displaying their feelings through a series of ritualistic passive aggressive maneuvers as they sit across from each other, executive assistants to co-CEOs of a publishing company. Lucy can't understand Joshua's joyless, uptight, meticulous approach to his job. Joshua is clearly baffled by Lucy's overly bright clothes, quirkiness, and Pollyanna attitude.
Now up for the same promotion, their battle of wills has come to a head and Lucy refuses to back down when their latest game could cost her her dream job…But the tension between Lucy and Joshua has also reached its boiling point, and Lucy is discovering that maybe she doesn't hate Joshua. And maybe, he doesn't hate her either. Or maybe this is just another game.
Review
I am on board with loving this book. And I think this is a gateway romance which I am a fan of.
Lucy had a great voice and was a fun heroine. She was quirky and very real. She cares so much about what others think which is really relatable. Josh was adorable. The only thing that stopped me from giving this 5 stars is the lack of Josh POV. I had a pretty good idea of his thoughts and feelings but could've used more.
The sexual tension was done so well. I love a good bickering couple and this was a great example of why. There isn't harsh or cruel interactions. And there wasn't a ton of angst which I liked. Angst isn't' a bad thing, but sometimes there's too much. This actually read like a high quality romantic comedy.
The writing was easy to read and fun. There was a ton of humor from Lucy's quirks. And there was something I can't quite explain about Ms.Thornes' writing that made me happy. This is a very cozy read.
I will definitely read more books by Sally Thorne. And I'll be picking up my own physical copy soon since I read this from the library.
Thanks for reading!
Holly