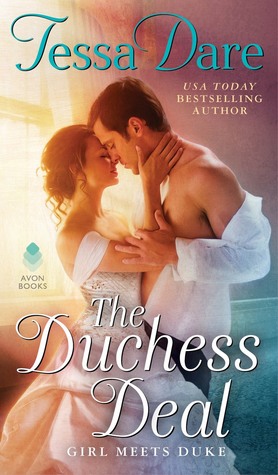 Series: Girl Meets Duke Book #1
How I Got It: Borrowed from Library (Overdrive)
Genre: Historical Romance
Synopsis from GoodReads
Since his return from war, the Duke of Ashbury's to-do list has been short and anything but sweet: brooding, glowering, menacing London ne'er-do-wells by night. Now there's a new item on the list. He needs an heir—which means he needs a wife. When Emma Gladstone, a vicar's daughter turned seamstress, appears in his library wearing a wedding gown, he decides on the spot that she'll do.

His terms are simple:
- They will be husband and wife by night only.
- No lights, no kissing.
- No questions about his battle scars.
- Last, and most importantly… Once she's pregnant with his heir, they need never share a bed again.

But Emma is no pushover. She has a few rules of her own:
- They will have dinner together every evening.
- With conversation.
- And unlimited teasing.
- Last, and most importantly… Once she's seen the man beneath the scars, he can't stop her from falling in love…
Review
I read this book without reading the synopsis. I literally just went with the fact that Tessa dare wrote it. She is definitely a favorite author now and a must buy/read. This is just a fantastic story. I read it in one sitting which is always a good sign.
Emma and Ash were both well-crafted characters. Emma is such a strong and determined woman. She is certainly an inspirational character. Ash was so funny in a dark and dry way. Ms. Dare really knows how to write scarred characters and humor.
This whole story dealt with some dark and serious issues. But it was handled in a wonderful way and Ms. Dare kept it appropriately light with does of humor here and there.
The only thing that makes me mad is that I have to wait months for the next book. There isn't even a real synopsis yet. But I think I saw some sequel bait there.
Thanks for reading!
Holly