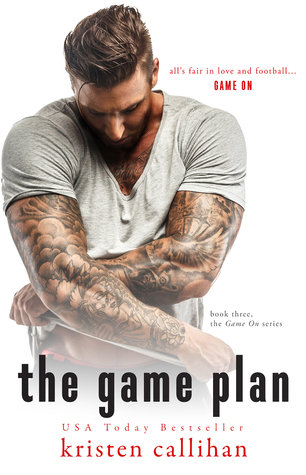 Series: Game On Book #3
Format: ebook
Rating: 4 Stars
How I Got It: Purchased
Genre: Contemporary Romance, New Adult
Publisher: Self-published
Synopsis courtesy of Goodreads
A beard-related dare and one hot-as-hell kiss changes everything.

NFL center Ethan Dexter's focus has always been on playing football and little else. Except when it comes to one particular woman. The lovely Fiona Mackenzie might not care about his fame, but she's also never looked at him as anything more than one of her brother-in-law's best friend. That ends now.

Fi doesn't know what to make of Dex. The bearded, tattooed, mountain of man-muscle looks more like a biker than a football player. Rumor has it he's a virgin, but she finds that hard to believe. Because from the moment he decides to turn his quiet intensity on her she's left weak at the knees and aching to see his famous control fully unleashed.

Dex is looking for a forever girl, but they live vastly different lives in separate cities. Fi ought to guard her heart and walk away. But Dex has upped his game and is using all his considerable charm to convince Fi he's her forever man.
Review
I was so happy to come back from vacation and see that this book was out. Kristen Callihan writes great characters and I'm glad Dex got his own story. This isn't my favorite in the series-that's still the first one-but it was still a solid story. And I love a good virgin hero.
Dex was a great hero. He is gentle and kind, but full of surprises. And he's incredibly passionate beneath his calm facade. I would consider him a beta hero, because he doesn't have that crazy need to rage that you often see in alphas and athlete heroes. There are a lot of tattooed guys in books, but bearded not so much. I'm not really into facial hair, but Ms. Callihan made me more open-minded. And I'm so happy the cover actually reflects Dex. Oh, and him with baby Leo: amazing.
Then, there's Fiona. I don't like her as much as Dex, but I don't have any major complaints. She is very confident in her body, but has some insecurities. Her personal journey and dealing with people who view her as flighty was interesting.
These two have some good chemistry. There was a little unrequited love on Dex's side, but it wasn't over the top and didn't bother me. You can tell how much they both care about each other even when they are pushing the other away. I would've liked more of their families especially Dex, because I like when the two main characters aren't only focused on each other. But this one didn't bother me quite as much as others.
I'm guessing there won't be more in this series, but I definitely plan on reading more Kristen Callihan as she writes. And if you like kind of angsty New Adult/Contemporary Romance I would suggest checking out this whole series.
Thanks for reading!
Holly