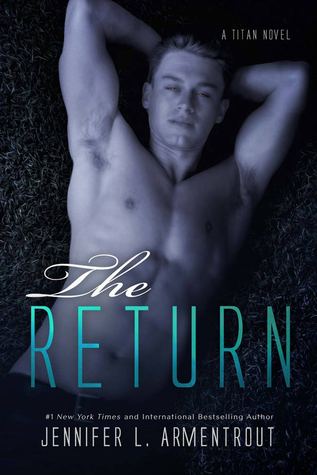 Series: Titan #1
Format: Ebook
Rating: 4 Stars
How I Got It: Purchased
Genre: New Adult, Paranormal, Mythology
Publisher: Spencer Hill Press
Synopsis courtesy of Goodreads
The Fates are cackling their bony asses off…

It's been a year since Seth made the deal with the gods that pledged his life to them. And so far, the jobs they've given him have been violent and bloody–which is kind of all right with him. But now Apollo has something else in mind for Seth. He's got to play protector while keeping his hands and fingers off, and for someone who really has a problem with restraint, this new assignment might be the most challenging yet.

Josie has no idea what this crazy hot guy's deal might be, but it's a good bet that his arrival means the new life she started after leaving home is about to be thrown into an Olympian-sized blender turned up to puree. Either Josie is going insane or a nightmare straight out of ancient myth is gunning for her.

But it might be the unlikely attraction simmering between her and the golden-eyed, secret-keeping Seth that may prove to be the most dangerous thing of all.

Because history has once again been flipped to repeat.

Book 1 in the new adult paranormal TITAN series, spin-off to the best selling COVENANT series.
Review
I've wanted to read this since I first read the Covenant series, but I've been putting it off because I prefer to marathon series. For some reason, during the middle of my recent vacation I felt an overwhelming need to read it. So, I bought it and read it as I was traveling home.
And like a lot of Jennifer Armentrout books I flew through it.
First, I'm so happy this was written in dual POV. I prefer that in my NA/romance reads and she does it so well. And I would've been disappointed if there was no Seth POV. One issue I had was that the POVs weren't clear. I could tell them apart and the voices were distinctive, but I would have preferred that they be labeled.
During the Covenant series I had conflicting emotions about Seth, but in the end I loved him. That didn't change here. He is a great character and I'm very excited to see him evolve and, hopefully, happy. Being in his head shows how good he wants to be. And it also shows the insecurities he has and is constantly trying to hide.
I really like Josie. She's funny and I like her bumbling. She doesn't have a lot of physical strength, but she has so much emotional strength. She obviously doesn't handle everything perfectly, but she is dealing with all the crazy very well.
The romance was definitely a slow burn. Maybe too much of a slow burn, because I was starting to get frustrated. But I do want them together and happy so much.
It was great to see some past characters. They are great and I love when that happens in companion series. I don't remember enough about how the first series ended, but I really want to see Alex and Aidan. I especially want Josie to be able to talk to Alex. And reading this made me want to re-read the Covenant series.
If you read the first series you should definitely check this out. If you need extra motivation—there's lots of shirtless Seth.
Thanks for reading!