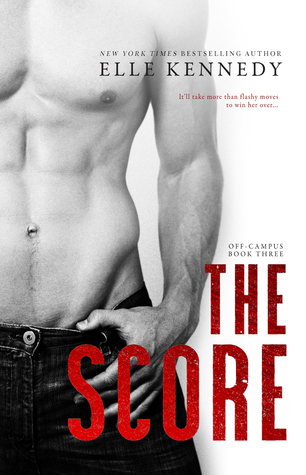 Series: Off Campus Book #3
Format: Ebook
Rating: 5 Stars
How I Got It: Purchased
Genre: New Adult, Contemporary Romance
Publisher: Self-published

Synopsis courtesy of Goodreads
Allie Hayes is in crisis mode. With graduation looming, she still doesn't have the first clue about what she's going to do after college. To make matters worse, she's nursing a broken heart thanks to the end of her longtime relationship. Wild rebound sex is definitely not the solution to her problems, but gorgeous hockey star Dean Di-Laurentis is impossible to resist. Just once, though, because even if her future is uncertain, it sure as heck won't include the king of one-night stands.
Dean always gets what he wants. Girls, grades, girls, recognition, girls…he's a ladies man, all right, and he's yet to meet a woman who's immune to his charms. Until Allie. For one night, the feisty blonde rocked his entire world—and now she wants to be friends? Nope. It's not over until he says it's over. Dean is in full-on pursuit, but when life-rocking changes strike, he starts to wonder if maybe it's time to stop focusing on scoring…and shoot for love.

Review

It's official: I love Elle Kennedy. And she's just like Sarina Bowen for me. Reading her books makes me want to re-read the others in the series. And that ending. I saw parts of it coing, but I need the next book NOW.

Before this I didn't know I needed a book about Dean and Allie, but I did. And I love them-as characters and a couple. They are so open sexually with each other. It's a breath of fresh air to see a couple so honest and sex-positive.

Speaking of being sex positive: Ms. Kennedy dealt with slut shaming very well. She showed how a person can shame themselves which I don't think I've read before. And I absolutely love that Dean is so strongly against it. He doesn't slut shame, but he also speaks out against it which is great to see.

It was also nice to see healthy family and friend relationships. It would've been easy to make Dean's family the obnoxious rich people, but they are a supportive family. The lady friendship between Allie and Hannah is also real and genuine. Even Dean has some solid friendships with the hockey guys and others. Male friendships are just so great.

Like I said before, I really like Allie and Dean as a couple. They make each other better by being together. And they are also very supportive. It isn't perfect because nobody is but they work well together. They're also funny and I love when a couple has a good sense of humor.

I really liked The Mistake, but I think this may be my favorite book in the series so far.

Thanks for reading!
Holly