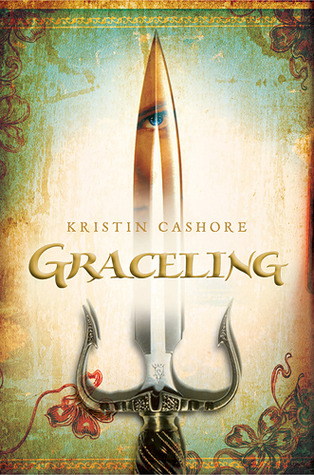 Series: Graceling Realm Book #1
Format: Paperback
Pages: 471
Rating: 5 Stars
How I Got It: Purchased
I love Po.
Oh, did you want an actual review?
This was a re-read and I won't lie-I was a little worried this wouldn't be as good as I remember it. But it totally was.
I think it's a great fantasy story that's paced exceptionally well. It's not all fighting and action, but the characters' personal journey are just as good.
Katsa is a great heroine and she's very strong. I love that she is strong, but has personality weaknesses that she struggles with. I know some people have issues with her feelings on marriage and/or children, but I think it's just a different perspective on societal expectations for women. And she reminds me a lot of Eon from that duology by Allison Goodman. They're both women, but aren't traditionally feminine.
Now, it's time for Po. I remember liking Po a lot before, but now I have a different perspective. I've been reading more and have learned that a good Beta is just perfect for me and this is Po. He is also a strong and intelligent person, but he never feels like he has to defend his manhood. At one point he's talking to Katsa about her being more powerful or something and he says that it wouldn't humiliate him, but would humble him. That's just perfect and I feel like really sums up his character.
I picked this up to get back in this world so I can finally read Bitterblue. And that plan completely worked. I'm very excited to read about a more grown up Bitterblue and spend more time in the world and with Ms. Cashore's writing.
Thanks for reading!
~Holly