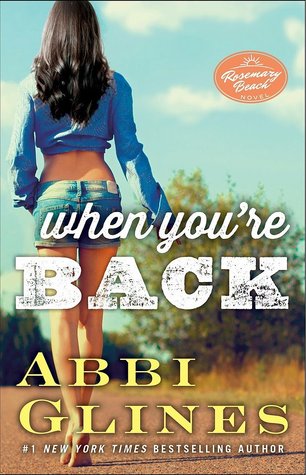 Series: Rosemary Beach Book #12
Format:ebook
Rating:4 Stars
How I Got It: Purchased
Genre: New Adult, Contemporary, Romance
Publisher: Simon and Schuster
Synopsis (from Goodreads)
From #1 New York Times bestselling author Abbi Glines comes the next new adult novel in her beloved Rosemary Beach series, which continues the story of Mase and Reese from When I'm Gone.

The future is bright for Reese Ellis. She has Mase Colt-Manning, the man of her dreams, and a family she didn't know existed until her long-lost father arrived on her doorstep in Rosemary Beach. After growing up with a cruel mother and abusive stepfather, Reese is eager to get to know the caring and charming man who wants to be a part of her life. Everything is finally falling into place.

While Reese is visiting her new family in Chicago, Mase spends time with his "cousin," Aida, who has worshipped him since childhood. Though they're unrelated by blood, Mase and Aida have been raised to think of each other as family. But when Reese returns, she can tell something isn't quite right with Aida, who clearly resents Reese and excels at manipulative little games. And though Mase is unsuspecting, Reese knows Aida doesn't love him like a cousin should...
Review
This was a step up. But I also just threw myself into the crazy soap operaness that is these books. Plus, Captain. I actually REALLY like him and that chapter from his POV just made me want more.
This book didn't really address the issues I had with Mase in the first book. But he got a little better. And Reese sort of grew a backbone. I'm glad she gained some more independence and didn't want Mase to be her only thing in life.
I actually am really interested in Reese's dad. But I definitely didn't get enough or the answers I want. I am hopeful that some of this will be addressed in the next book.
Overall, I enjoyed the crazy drama of this story, but why did Aida have to exist? She didn't actually contribute anything. She's basically mini-Nan. Why most we always have women hating on women? It makes me angry.
I feel like I should apologize because this is less of a review and more of me just throwing up words/thoughts.
Trigger Warning: Sexual Assault/abuse
Thanks for reading!
~Holly