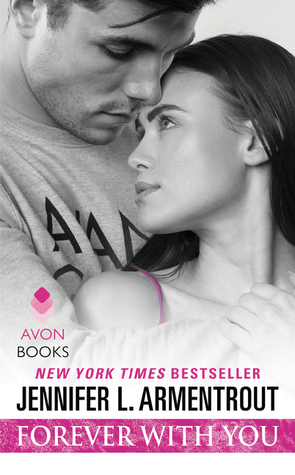 Series: Wait for You Book #4
Format: Mass Market Paper Back
Pages: 370
Rating: 4 Stars
How I Got It: Purchased
Genre: Romance, Contemporary Romance
Publisher: Avon
Synopsis courtesy of Goodreads
In the irresistibly sexy series from #1 New York Times bestselling author Jennifer L. Armentrout, two free spirits find their lives changed by a one-night stand…

Some things you just believe in, even if you've never experienced them. For Stephanie, that list includes love. It's out there. Somewhere. Eventually. Meanwhile she's got her job at the mixed martial arts training center and hot flings with gorgeous, temporary guys like Nick. Then a secret brings them closer, opening Steph's eyes to a future she never knew she wanted—until tragedy rips it away.

Nick's self-assured surface shields a past no one needs to know about. His mind-blowing connection with Steph changes all that. As fast as he's knocking down the walls that have kept him commitment-free, she's building them up again, determined to keep the hurt—and Nick—out. But he can't walk away. Not when she's the only one who's ever made him wish for forever . . .
Review
Another great book in this series. I really like Jennifer L. Armentrout's writing. I've been curious about Stephanie since book one and I wasn't disappointed. I did call the main plot points from the synopsis, but that didn't take away from my enjoyment.
Like I already said I really liked Stephanie. In the first two books she kind of has the role of slutty girl who slept with the hero before. I always felt like there was more to her and I'm so glad Ms. Armentrout decided to do more with a stereotypical character for New Adult novel. She's a very likeable character who is confident. It was nice to see how she deals with her past and being friends with other women.
Nick was also a good character. He had a lot more going on with his family and past than I would have thought. He is also surprisingly sweet and kind to Stephanie. I do wish I could have gotten in his head, but that's common complaint I have with romances told in first person.
Even though I guessed what the main plot point would be I liked it. And she developed it a lot more than I expected.
And Katie. I've liked her since she was first introduced, but now I love her. She's just amazing. I really want her to have a book, but sometimes I like that she has a little bit of mystery to her.
Thanks for reading!