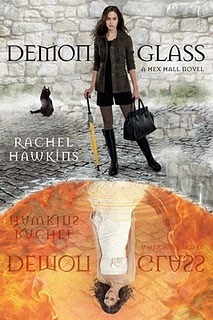 Series: Hex Hall Book #2
Format: Paperback
Rating: 4 Stars
How I Got It: Purchased
Genre: Young Adult, Paranormal
Publisher: Disney Hyperion
Synopsis courtesy of Goodreads
Sophie Mercer thought she was a witch. That was the whole reason she was sent to Hex Hall, a reform school for delinquent Prodigium (a.k.a. witches, shape-shifters, and faeries). But then she discovered the family secret, and the fact that her hot crush, Archer Cross, is an agent for The Eye, a group bent on wiping Prodigium off the face of the earth.

Turns out, Sophie's a demon, one of only two in the world-the other being her father. What's worse, she has powers that threaten the lives of everyone she loves. Which is precisely why Sophie decides she must go to London for the Removal, a dangerous procedure that will either destroy her powers for good-or kill her.

But once Sophie arrives, she makes a shocking discovery. Her new housemates? They're demons too. Meaning, someone is raising demons in secret, with creepy plans to use their powers, and probably not for good. Meanwhile, The Eye is set on hunting Sophie down, and they're using Archer to do it. But it's not like she has feelings for him anymore. Does she?
Review
Holy crap, that was a cliffhanger ending. I liked the first book a little more, but I think that's because things got a lot more serious in this. I was expecting more sarcasm and humor.
Sophie is still great. Even though I miss her biting comments, it's nice to see her growing because of the seriousness of her situation. And she really cares about her friends and other people. The Jenna friendship was still there and that makes me happy.
I feel like there's a love triangle happening. Generally, I'm opposed to them, but this one confuses me. Going into it I was completely on team Archer even though he's a bad boy. But Cal is so nice and I don't want to see him get hurt. Uhg…I don't know what's going to happen or how I'll feel about it.
In this one we traveled to England and met some people on the Council. The whole world started to broaden. I really liked learning more about how Sophie's magic works. And I feel like there was some groundwork laid out for the final book and what I'm assuming will be a big clash.
Good thing I already own the third books, because I want to know what happen next. I'm guessing there are still some big reveals coming. And I have some theories.
Thanks for reading!
Holly