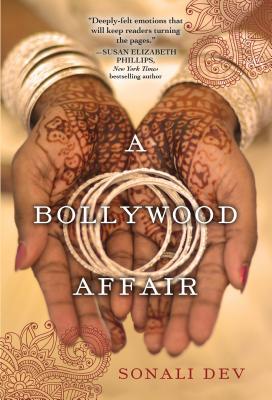 Series: Bollywood Book #1
Format: Paperback
Pages: 289
Rating: 4.5 Stars
How I Got It: Purchased
Genre: Contemporary Romance
Publisher: Kensington
Synopsis courtesy of Goodreads
Mili Rathod hasn't seen her husband in twenty years—not since she was promised to him at the age of four. Yet marriage has allowed Mili a freedom rarely given to girls in her village. Her grandmother has even allowed her to leave India and study in America for eight months, all to make her the perfect modern wife. Which is exactly what Mili longs to be—if her husband would just come and claim her.
Bollywood's favorite director, Samir Rathod, has come to Michigan to secure a divorce for his older brother. Persuading a naïve village girl to sign the papers should be easy for someone with Samir's tabloid-famous charm. But Mili is neither a fool nor a gold-digger. Open-hearted yet complex, she's trying to reconcile her independence with cherished traditions. And before he can stop himself, Samir is immersed in Mili's life—cooking her dal and rotis, escorting her to her roommate's elaborate Indian wedding, and wondering where his loyalties and happiness lie.
Heartfelt, witty, and thoroughly engaging, Sonali Dev's debut is both a vivid exploration of modern India and a deeply honest story of love, in all its diversity.
Review
It's been awhile since I read a book recommended by the DBSA podcast and it did not disappoint. The characters were great and the story was touching. And it's just full of Indian culture.
Mili is a little on the naive side. But instead of being annoying she's inspiring. She's full of optimism and is so generous. And she isn't perfect which helps humanize her.
And I really liked Samir. He was more vulgar than I expected, but I kind of like that. He's got some serious abandonment issues, but he's also incredibly kind. Especially with his mom.
The romance was very well-developed. they both knew they couldn't be together which created some great tension. The became good friends first which is always nice to see. And I really liked how cooking and food/eating played a role in so many of their interactions.
Ms. Dev put a lot of cliches in her story. Some I'm used to only seeing in historicals, but because of Indian culture it works. She took some of the tropes and outright embraced them, but with others it was as if she was purposely going against.
Like I mentioned before, Indian culture played a very big role in the story. Ms. Dev explains almost nothing. This did make me confused sometimes, but it also made it more realistic. Mili wouldn't stop to explain food she's made or eaten her whole life. I did get the names confused for awhile since everyone goes by two or three names. But by half-way through I had it all figured out. I have the same problem with fantasies.
Sonali Dev's writing is beautiful and I plan to read her other book even though she said they get darker. This one already made me cry so I'll have to prepare myself.
Thanks for reading!
Holly