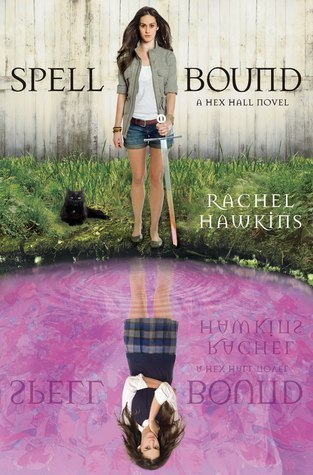 Series: Hex Hall Book #3
Format: Paperback
Pages: 327
Rating: 4 Stars
How I Got It: Purchased
Genre: Young Adult, Paranormal, Witches
Publisher: Hyperion

Synopsis courtesy of Goodreads

Hailed as "impossible to put down," the Hex Hall series has both critics and teens cheering. With a winning combination of romance, action, magic and humor, this third volume will leave readers enchanted.

Just as Sophie Mercer has come to accept her extraordinary magical powers as a demon, the Prodigium Council strips them away. Now Sophie is defenseless, alone, and at the mercy of her sworn enemies—the Brannicks, a family of warrior women who hunt down the Prodigium. Or at least that's what Sophie thinks, until she makes a surprising discovery. The Brannicks know an epic war is coming, and they believe Sophie is the only one powerful enough to stop the world from ending. But without her magic, Sophie isn't as confident.

Sophie's bound for one hell of a ride—can she get her powers back before it's too late?
Review
I'm kind of sad to see this series and Sophie's story end. This was a little return to Sophie's crazy humor, but still had the seriousness of book two. The first book is my favorite, but it was definitely a solid series.
Getting to meet the Brannicks was nice. I guessed one of the reveals during the second book, but I still liked the execution. But it also caused more questions which have gone unanswered. Like Torin and his "prophecies". I want to know what's up with all of that. Maybe in the spin-off.
I'm still not a big fan of the love triangle. And Ms. Hawkins resolved it in one of my least favorite ways. But I do care about all three of them which is a good thing. I want them all to be happy.
A big surprise for me was Elodie. I really grew to like and care about her. She seemed more human in this one because she showed vulnerability. I wasn't expecting that at all, so good job Ms. Hawkins.
Overall, I really enjoyed this series. They are a quick read and Sophie is full of so much sass. I will definitely keep my eye on Rachel Hawkins and hope to read more of her books.
Thanks for reading!
Holly