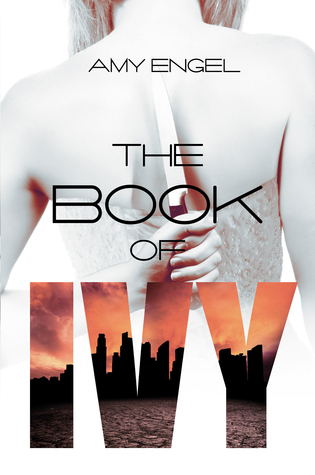 Series: The Book of Ivy Book #1
Format: Library Binding
Pages: 282
Rating: 4.5 Stars
How I Got It: Borrowed from the Library
Genre: Young Adult, Dystopian
Publisher: Entangled Teen

Synopsis courtesy of Goodreads
After a brutal nuclear war, the United States was left decimated. A small group of survivors eventually banded together, but only after more conflict over which family would govern the new nation. The Westfalls lost. Fifty years later, peace and control are maintained by marrying the daughters of the losing side to the sons of the winning group in a yearly ritual.

This year, it is my turn.

My name is Ivy Westfall, and my mission is simple: to kill the president's son—my soon-to-be husband—and restore the Westfall family to power.

But Bishop Lattimer is either a very skilled actor or he's not the cruel, heartless boy my family warned me to expect. He might even be the one person in this world who truly understands me. But there is no escape from my fate. I am the only one who can restore the Westfall legacy.

Because Bishop must die. And I must be the one to kill him…
Review
This book had a tone of hype last year so I was avoiding it. But I finally gave in. ANd I loved it. Ms. Engel wrote a great dystopian that hooked me. I had to go buy the second one right away so I could pick it up when I finished The Book of Ivy.
Maybe it's because it's a dystopian, but I couldn't stop comparing this to other books and media. I think in a lot of ways this has what people wanted in the Selection Series. Personally, I liked both. It also reminded me a lot of the TV show Revolution. These characters are very knowledgable about what life was like "before" and are trying to rebuild.
The characters were great. Ivy was just amazing. I really liked reading from her perspective and love how passionate she is. Bishop is so sweet and kind. My opinion won't be fully formed until I finish the series, but I think he's a solid beta hero.
Ms. Engel also did some interesting things with the side characters. They were well developed no matter how little page time they have. And without spoiling anything, I was pleasantly surprised with what I would call stock characters in dystopians.
Speaking of dystopia. This was solid. Ms. Engel has her characters acknowledge the pros and cons of their political system. One of the issues I often have with dsytopians is how they world is just black and white. This may change in the second book, but right now I like how Ms. Engel is approaching her characters' reality.
Lastly, the romance. It's so cute and Bishop is so generous with Ivy. They have a great subtle chemistry and I really like the quiet times between them. They're just so stinking adorable.
Thanks for reading!
Holly