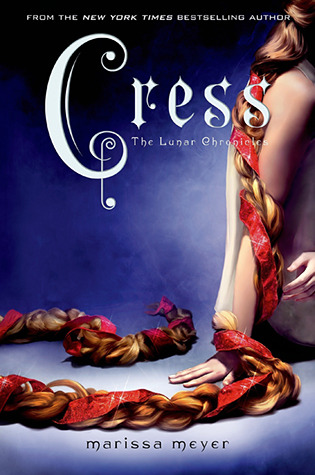 Series: Lunar Chronicles Book #3
Format: Hardcover
Pages: 550
Rating: 4 Stars
How I Got It: Purchased
Genre: Sci-Fi, Fairytale Retellings
Publisher: Feiwel & Friends

Synopsis courtesy of Goodreads
In this third book in the Lunar Chronicles, Cinder and Captain Thorne are fugitives on the run, now with Scarlet and Wolf in tow. Together, they're plotting to overthrow Queen Levana and her army.

Their best hope lies with Cress, a girl imprisoned on a satellite since childhood who's only ever had her netscreens as company. All that screen time has made Cress an excellent hacker. Unfortunately, she's just received orders from Levana to track down Cinder and her handsome accomplice.

When a daring rescue of Cress goes awry, the group is separated. Cress finally has her freedom, but it comes at a high price. Meanwhile, Queen Levana will let nothing prevent her marriage to Emperor Kai. Cress, Scarlet, and Cinder may not have signed up to save the world, but they may be the only hope the world has.
Review
This one had a lot more allusions to it's fairytale than the first two books. Or maybe I just notice them more because I'm very familiar with this fairytale. I did really enjoy the story, but I'm not all cockoo for coco puffs over it the way the internet seems to be.
Normally, stories that have a ton of POVs bothers me, but this works. I like that just because this is Cress's story she isn't the only one. Kai and Scarlet and Cinder's stories all continue. And Ms. Meyer did a good job of pacing the different POVs so that they came at the right time.
Cress is a very nice girl. Obviously she was sheltered, but she was also strong. There's so much she had to go through and she did it without complaint.
The way people talk about Thorne I thought he would be more swoon-worthy. I do like him and think he's generally a good person beneath the arrogance and sarcasm. But I think I like Kai more than him. I hope that's not blasphemy.
I'm really into the plot in this series. There's some mystery and suspense. I never know what Queen Levana is going to do and it makes me nervous when she shows up. There were some more things revealed and I am very interested in Winter as a character.
One thing that really impressed me was Ms. Meyer's use of humor. I wouldn't say this is a funny book, but there is a good amount of humor to lighten up the mood when needed.
Oh, and I love Iko. I mean I've always liked her, but she is just so amazing. She's funny and endearing. Seriously, if she dies somehow I'm going to be pissed. Anyone else can bite it, but not her. Don't spoil Winter for me.
Thanks for reading!
Holly