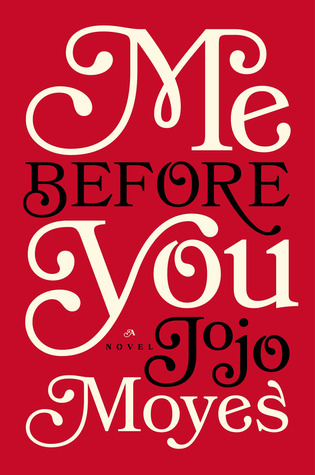 Series: Me Before You Book #1
Format: Paperback
Pages: 369
Rating: 5 Stars (I think...)
How I Got It: Purchased
Genre: Adult Fiction,
Publisher: Penguin Books

Synopsis courtesy of Goodreads
Lou Clark knows lots of things. She knows how many footsteps there are between the bus stop and home. She knows she likes working in The Buttered Bun tea shop and she knows she might not love her boyfriend Patrick.

What Lou doesn't know is she's about to lose her job or that knowing what's coming is what keeps her sane.

Will Traynor knows his motorcycle accident took away his desire to live. He knows everything feels very small and rather joyless now and he knows exactly how he's going to put a stop to that.

What Will doesn't know is that Lou is about to burst into his world in a riot of colour. And neither of them knows they're going to change the other for all time.
Review
I've been putting off this review for about a month. I'm just so confused about my feelings. I don't even 100% stand behind my rating. So, this will probably be short and disjointed.
THe writing was beautiful. It definitely made me think and I particularly enjoyed Lou. Oh, and the feels were very strong with this one.
But I was incredibly conflicted through the whole thing. I even had to take a break and put it down. I don't want to have a moral argument with anyone especially since I don't know where I stand, but this book kind of calls for that discussion. Part of my issue is that sometimes I felt like I was being emotionally manipulated.
Going in, I was super-excited by the traveler, but now I'm not sure if I even want to see the movie trailer. And I'm really torn about reading After You. If you have a strong feelings either way let me know.
Thanks for reading!
Holly