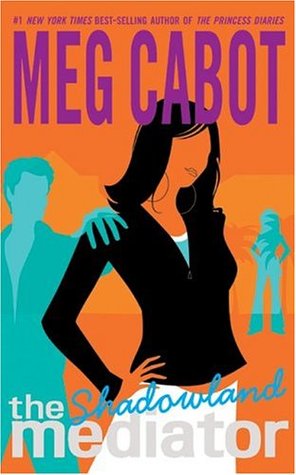 Series: Mediator Book #1
Format: Paperback
Pages: 287
Rating: 4 Stars
How I Got It: Purchased
Genre: Young Adult, Paranormal,
Publisher: Harper Teen

Synopsis courtesy of Goodreads
There's a hot guy in Susannah Simon's bedroom. Too bad he's a ghost.

Suze is a mediator - a liaison between the living and the dead. In other words, she sees dead people. And they won't leave her alone until she helps them resolve their unfinished business with the living. But Jesse, the hot ghost haunting her bedroom, doesn't seem to need her help. Which is a relief, because Suze has just moved to sunny California and plans to start fresh, with trips to the mall instead of the cemetery, and surfing instead of spectral visitations.

But the very first day at her new school, Suze realizes it's not that easy. There's a ghost with revenge on her mind... and Suze happens to be in the way.
Review
I really loved this series when I was younger, so I was super-excited to see a new book was being released. Naturally, I thought this would be a great time for a re-read. But I was afraid adult me wouldn't like it as much as teenage me. Fortunately, it was still enjoyable.
The writing is easy to read and fast-paced. It's pretty funny and isn't very dated. Contemporaries can always be odd when it comes to word choice or fashion that way. And Suze is a snappy narrator who talks directly to the reader which I love.
Suze is definitely a little stubborn and judgey. She's very strong which comes from that, but she also needs to be a little open-minded. Overall, I enjoy her and the other characters. Father Dom is an amazing foil to her. And her little step-brother Doc/David is adorable. Then, there's Jesse who is sweet and dreamy especially for a dead guy.
I don't remember a lot of what happens in this series so I am eager to go on a journey with Suze again. And Jesse. Always Jesse.
Thanks for reading!
Holly