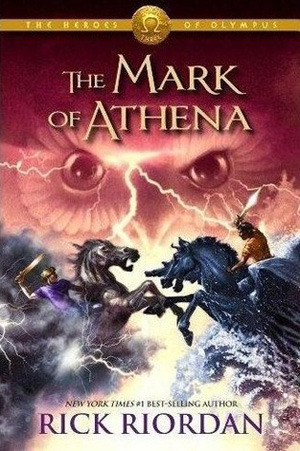 Series: Heroes of Olympus Book #3
Format: Hardcover
Pages: 586
Rating: 4 Stars
How I Got It: Gift
Things are getting pretty serious and more mature. Although, some of the characters behaved in ways that bothered me.
I was so glad to read from Annabeth's POV. I've liked her for years and have seen her grow up, but have never been in her head. She's even more intelligent and awesome than I thought. It's also great to see her weaknesses.
Speaking of Annabeth-let's talk Percabeth. They are so freaking adorable and I love seeing them as a more mature couple. I love how supportive they are of each other.
Leo really stepped it up. I'm really liking him and am invested in his story. Although, I'm already over the weird is it or isn't it a love triangle between Leo, Frank, and Hazel. I hope this doesn't carry through the remaining books.
My biggest issue is Piper. I really liked her in the first book, but I don't understand why she got a POV. Her chapters didn't really propel the plot and seemed to be just there to show Jason without Jason being competition for Percy.
And I'm still loving Coach Hedge. He's like a little hidden gem in these books and hopefully he keeps being like that.
Thanks for reading!
~Holly