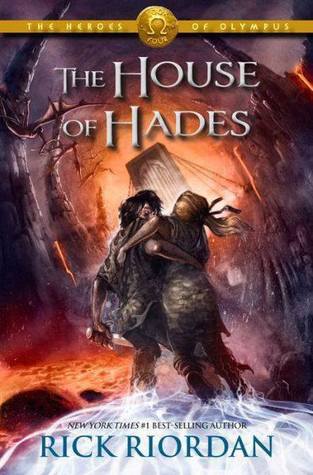 Series: Heroes of Olympus Book #4
Format: Hardcover
Pages: 583
Rating: 4 Stars
How I Got It: Purchased
It took me almost a week to read this book. I know for some people that would be considered fast or normal, but for me that's slow. I am still enjoying the characters and overall story, but this is probably my least favorite. It's just hard to keep all of the characters and their individual stories straight. That's the danger of having such a large cast.
Now, there was a crap-ton of Percy and Annabeth. They both had POV chapters and they were plentiful. I did enjoy reading about them and they are great characters. It was especially nice to see them so low, because it really shows their individual strengths and weaknesses. And they are a very solid couple. They have drama, but it's more like them working together to fight outside drama. But I'm guessing they'll be more of side characters in the last book since they were such a large part of this one.
Then, there's Leo. And I'll say it-he's my favorite. He's really grown throughout the series. And he has so much going on in this book. He's becoming more than comic relief and I am eager to see how his character continues to grow in the last book.
Frank and good old Coach Hedge have also developed a lot. Their going through little personal struggles and I'm loving it. I've liked Frank in the past, but he's slowly making his way up my favorite character list.
Then, there's Jason and Piper. These characters just keep disappointing me as the series progresses. I find them the least interesting and, at this point, I don't really get why they're here. I don't hate them, but I think they are the casualties of having so many "main" characters in a book.
I do want to see how this story resolves, but I'm not dying to pick up the last book. So, eventually I'll read it and I'm sure I'll tell you how I feel.
Thanks for reading!