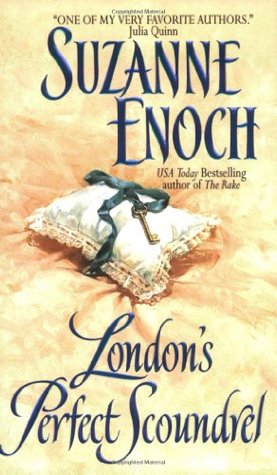 Series: Lessons in Love #2
Format: Mass Market Paperback
Pages: 372
Rating: 4 Stars
How I Got It: Purchased
I've been a fan of Ms. Enoch for a while and this did not disappoint. It was full of the things I look for in a good historical romance. Except an epilogue. Why no epilogue Ms. Enoch? They're basically my favorite part.
Now, let's get down to business. The reason it gets four stars instead of five is because of the beginning. The first 75 or so pages kind of dragged and I almost put the book down. But I didn't. And once this book got going it was amazing.
Saint is basically the typical moody rake, but I like that kind of character. And I liked that he didn't fight his feelings for Evelyn. Oh, I love every time he calls her Evelyn Marie. My favorite scene was when he had a break down. I won't spoil what happened to cause it, but Ms. Enoch does a fantastic job of showing how this moment really changes him.
I like Evelyn, but she isn't quite as interesting. She appealed to me more when she would stand up for herself. But I was missing a bit of her back story and that makes it hard for me to understand her relationship with her brother and mother.
The tension and romance really makes this story. And I enjoyed their banter and exchanges. Except for the first time they had sex-that was kind of weird.
If you like fairly standard historical romances I think you would like this one.
Thanks for reading!