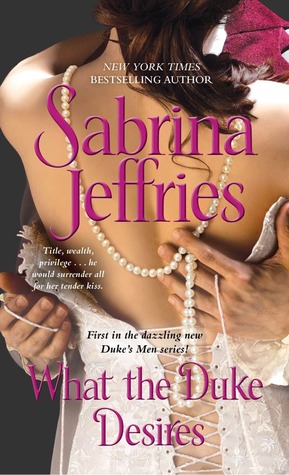 Series: The Duke's Men Book #1
Format: Paperback
Pages: 384
Rating: 3 Stars
How I Got It: Purchased
This felt like an average historical romance. I have no big complaints, but it also wasn't anything ground breaking. And I'm still a big fan of Sabrina Jeffries and will continue the series.
I liked Lisette and the Duke. And they had some decent chemistry. They both had strong personalities which I like. But sometimes they would backtrack. Like Lisette would be firm on something and then act differently like a page later. That kind of behavior is a little frustrating.
And while I do believe in their romance it progressed too fast. All of their sexual chemistry and physical interactions were great. But I thought things like love and marriage were thrown around a little to quickly.
Thanks for reading!