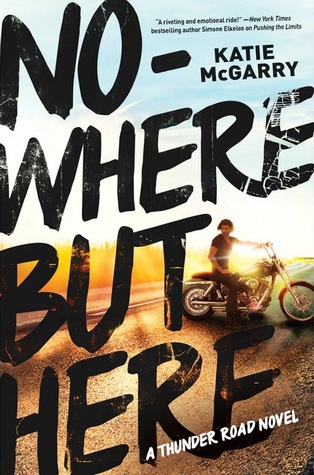 Series: Thunder Road Book #1
Format: Hardcover
Pages: 483
Rating: 5 Stars
How I Got It: Purchased
I devoured this book. But that's pretty standard for a Katie McGarry book for me. I was actually a little nervous because of the motorcycle club aspect, but she handled it well and I love the characters.
I immediately connected with Emily. We have a lot in common and I think we both had the same per-conceived notions of motorcycle clubs. This was nice because as she became more open-minded I did too. And she's a nice blend of bold strength and humility.
Oz was more of an unknown at the beginning. He's so hyper-focused on getting into the club that it was hard to get to know him. But after spending more time with him I saw how caring he is and now I love him.
The romance worked for me. I think some people might think it's insta-love, but I think it's insta-attraction. They are physically drawn together but fight it and each other. I'm a big fan of the slightly antagonistic romances.
And I'm glad she put more relationships in than just a romance. Emily builds relationships with her biological dad and other people in the club. This helped make the club more human and feel like a family. I'm now very eager for the series to continue and to see who else gets a book.
Thanks for reading!