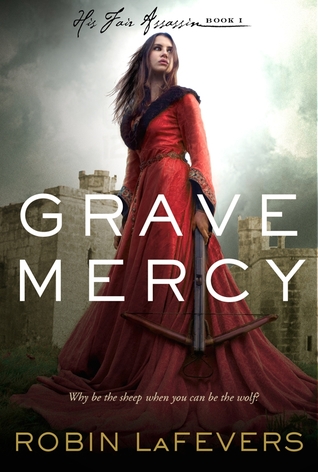 Series: His Fair Assassin Book #1
Format: Hardcover
How I Got It: Borrowed from the Library
I did not expect to like this as much as I did or be so sucked in. And it had a little bit of a Mists of Avalon feel to it. (The mini-series).
I actually like stories with political intrigue and court politics. And I was happy it was such an important part of this story. But I wish it had been more developed or explained. I assume this is based on some true history, but I don't know anything. I was confused for a while about who everyone was in relation to the other characters.
Ismae is an interesting character and I like her. It really breaks my heart to see her deal with affection because it's so foreign. She's also a physically strong character who is willing to make tough decisions. But I wish she would stop to think sometimes.
The romance was sweet and developed well. It's a little predictable, but that doesn't typically bother me. And I feel like Ms. LaFevers did a good job of blending the romance with the other aspects of the story. I could've used more romance because I'm a fan but the story doesn't need it.
This was a great book, but I'm very eager to read the next book. I want to know how the larger plot is resolved and I'm very interested in the next main character.
Thanks for reading!
~Holly