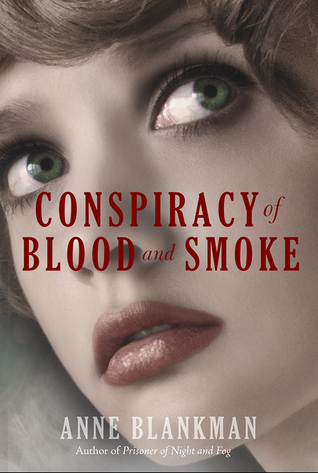 Series: Prisoner of Night and Fog Book #2
Format: Hardcover
Pages:406
Rating: 5 Stars
How I Got It: Borrowed from the library
Genre: Historical Fiction, Young Adult,
Publisher: Balzer + Bray
Synopsis courtesy of Goodreads
The girl known as Gretchen Whitestone has a secret: She used to be part of Adolf Hitler's inner circle. More than a year after she made an enemy of her old family friend and fled Munich, she lives with a kindly English family, posing as an ordinary German immigrant, and is preparing to graduate from high school. Her love, Daniel Cohen, is a reporter in town. For the first time in her life, Gretchen is content.

But then, Daniel gets a telegram that sends him back to Germany, and Gretchen's world turns upside-down. And when she receives word that Daniel is wanted for murder, she has to face the danger she thought she'd escaped-and return to her homeland.

Gretchen must do everything she can to avoid capture and recognition, even though saving Daniel will mean consorting with her former friends, the Nazi elite. And as they work to clear Daniel's name, Gretchen and Daniel discover a deadly conspiracy stretching from the slums of Berlin to the Reichstag itself. Can they dig up the explosive truth and get out in time-or will Hitler discover them first?
Review
I definitely enjoyed this, but I liked the first book a little bit more. Granted, I feel like I went into this one with my emotional guards. It's been a couple weeks and I'm still dealing with how that one made me feel. I'm actually really torn because these books are so beautiful, but I don't know if I could ever read them again. I do plan on reading other books Anne Blankman writers.
I really didn't know what the plot would be for this one. It still has mystery and suspense, but was more about things bigger than Gretchen and Daniel. And I really liked getting a larger view of Germany and the people. They travel to Berlin and meet some communists. I almost always like when you get more people's perspectives on what is going on.
Gretchen and Daniel also had to deal with some real personal problems. They question if they are good for each other and how their differences will impact their lives if they stay together. It was interesting that some of the things pushing them together would also pull them apart.
This probably isn't my best review, but I think my emotions are too high to have very clear thoughts.
Thanks for reading!