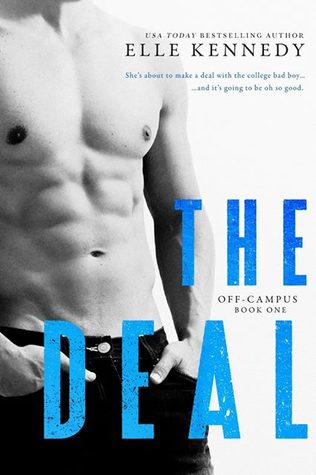 Series: Off-Campus Book #1
Format: Ebook
Rating: 4 Stars
How I Got It: Purchased
Genre: New Adult, Contemporary, Romance
Publisher: Self-Published
Synopsis courtesy of Goodreads
She's about to make a deal with the college bad boy...

Hannah Wells has finally found someone who turns her on. But while she might be confident in every other area of her life, she's carting around a full set of baggage when it comes to sex and seduction. If she wants to get her crush's attention, she'll have to step out of her comfort zone and make him take notice... even if it means tutoring the annoying, childish, cocky captain of the hockey team in exchange for a pretend date.

...and it's going to be oh so good.

All Garrett Graham has ever wanted is to play professional hockey after graduation, but his plummeting GPA is threatening everything he's worked so hard for. If helping a sarcastic brunette make another guy jealous will help him secure his position on the team, he's all for it. But when one unexpected kiss leads to the wildest sex of both their lives, it doesn't take long for Garrett to realize that pretend isn't going to cut it. Now he just has to convince Hannah that the man she wants looks a lot like him.
Review
This book is full of things I don't like. There's unrequited love (sort of), a bet or deal storyline, and some other things. But this is also an example of how enjoyable a story can be if written well even if you don't like the basics.
So, yeah I enjoyed this. I definitely like the second book in the series more, but it's still a great new adult novel.
Hannah is really easy to like. I would totally be her friend. I love that Ms. Kennedy doesn't make her female characters pristine or pure. Ladies can swear, too. She could be super mopey about being a rape survivor but she isn't. It's nice to see a different perspective on that story line.
And Garrett is great. Ms. Kennedy is really good at writing the manwhore guy without falling into the stereotype. He has the arrogance of Jace from The Mortal Instruments and is fairly light-hearted. I find him very charming…and he knows it.
I think I touched this in another review recently, but I do like male friendships in this series. It isn't a huge part of the story, but she shows that guys can have real emotions and relationships separate from the women in their lives.
I wish I could tell you why this isn't a five-star read, but I can't. I think it really just comes down to personal preferences. You probably like this on the second book more.
Now, when is she going to publish the third book? I want more and I can't understand why those two characters will end up together.
Trigger Warning: Mention of rape
Thanks for reading!