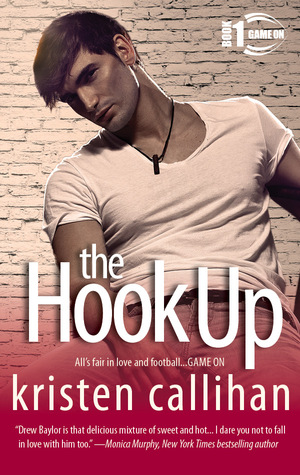 Series: Game On #1
Format: Ebook
Rating: 4.5 Stars
How I Got It: Purchased
Genre: New Adult, Sports, Contemporary Romance
Publisher: Self-published
Synopsis courtesy of Goodreads
The rules: no kissing on the mouth, no staying the night, no telling anyone, and above all… No falling in love.

Anna Jones just wants to finish college and figure out her life. Falling for star quarterback Drew Baylor is certainly not on her to do list. Confident and charming, he lives in the limelight and is way too gorgeous for his own good. If only she could ignore his heated stares and stop thinking about doing hot and dirty things with him. Easy right?

Too bad he's committed to making her break every rule…

Football has been good to Drew. It's given him recognition, two National Championships, and the Heisman. But what he really craves is sexy yet prickly Anna Jones. Her cutting humor and blatant disregard for his fame turns him on like nothing else. But there's one problem: she's shut him down. Completely.

That is until a chance encounter leads to the hottest sex of their lives, along with the possibility of something great. Unfortunately, Anna wants it to remain a hook up. Now it's up to Drew to tempt her with more: more sex, more satisfaction, more time with him. Until she's truly hooked. It's a good thing Drew knows all about winning.

All's fair in love and football…Game on.
Review
After two kind of disappointing new adult books this gave me exactly what I wanted. The only thing that could make it better—hockey. It did remind me of Sarina Bowen.
I totally love Anna and Drew. They have issues (obviously) but they are great people. I really like them as individuals and as a couple. I think Anna especially has some very real hang ups. I'm sure some people would find her running away annoying but it didn't bother me.
The writing worked for me. This is the hardest thing to put into words in any review I write. It's emotional, but not overly-dramatic which I like. And the two POVs were distinct. I wish there was a little more Drew especially in the middle of the story.
Like I said before, I like Anna and Drew as a couple. They have great chemistry and I was very invested in them. I especially liked how Ms. Callihan approached the realities of being in a relationship. It's not easy and requires work and pain can be a part of that. I always like books that spend more time exploring that aspect of a romance.
I recommend this book and plan to read more Kristen Callihan. I'll probably pick up the next book in this series in the next couple of weeks.
Thanks for reading!