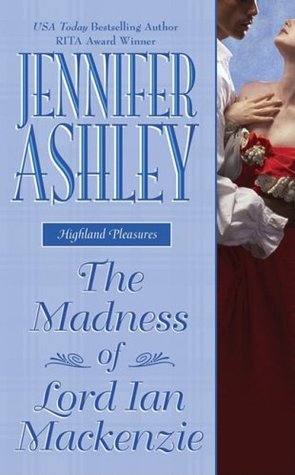 Series: MacKenzies and McBrides Book #1
Format: Ebook
Rating: 5 Stars
How I Got It: Purchased
Genre: Historical Romance, Mental Health, Widow
Publisher: Leisure Books
Synopsis courtesy of Goodreads
The year is 1881. Meet the Mackenzie family--rich, powerful, dangerous, eccentric. A lady couldn't be seen with them without ruin. Rumors surround them--of tragic violence, of their mistresses, of their dark appetites, of scandals that set England and Scotland abuzz.

The youngest brother, Ian, known as the Mad Mackenzie, spent most of his young life in an asylum, and everyone agrees he is decidedly odd. He's also hard and handsome and has a penchant for Ming pottery and beautiful women.

Beth Ackerley, widow, has recently come into a fortune. She has decided that she wants no more drama in her life. She was raised in drama--an alcoholic father who drove them into the workhouse, a frail mother she had to nurse until her death, a fussy old lady she became constant companion to. No, she wants to take her money and find peace, to travel, to learn art, to sit back and fondly remember her brief but happy marriage to her late husband.

And then Ian Mackenzie decides he wants her.

The first of a new historical series.
Review
Well that happened. I know a lot of people love this but some people I respect thought it was mediocre so I didn't know where I was going to fall. But from page is one I was captured by the writing, story, characters. It might seem obvious but this reminded me a lot of Flowers from the Storm by Laura Kinsale but a little less angsty.
Beth and Ian were both great and immediately likeable. I love a good widow heroine, especially if she isn't bitter. Ian is definitely a little odd, but I found him intriguing and he really cares about his family.
Speaking of family—The MacKenzies. They are an amazing family and full of all the amazing sequel bait I love in historical romance. And I love how much the brothers love each other. It's not over-the-top, but they aren't afraid to show affection. I already bought the next book so I can read about Mac and Isabella.
Back to the couple. They have great chemistry. I was torn because sometimes I liked how sex was easy and emotion was hard, but it did get a little overdone. They seemed to have the same argumenta lot and that always starts to bother me.
I was intrigued by the mystery plot. I wanted to know what happened and thought it was well developed. But I don't read romances for those storylines.
The last thing I'll talk about is the fact that Ian has Asperger's. I don't know anyone with any form of autism and actually don't know how accurate this depiction is. But I think it's a great idea to have a character suffer from something in a world where no one understands. It really wasn't that long ago that any and all mental illnesses were lumped together. And it's no secret that I enjoy stories with "different" characters and love when romances show those characters as deserving of love.
Thanks for reading!