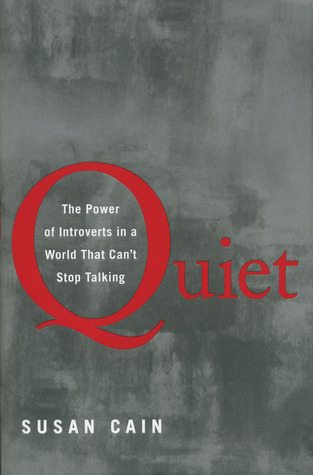 Format: Audiobook
Rating: 4 Stars
How I Got It: Borrowed from Library (Overdrive)
Genre: Non-Fiction
Publisher: Crown Publishing Group/Random House
Synopsis courtesy of Goodreads
At least one-third of the people we know are introverts. They are the ones who prefer listening to speaking, reading to partying; who innovate and create but dislike self-promotion; who favor working on their own over brainstorming in teams. Although they are often labeled "quiet," it is to introverts that we owe many of the great contributions to society--from van Gogh's sunflowers to the invention of the personal computer.

Passionately argued, impressively researched, and filled with indelible stories of real people, Quiet shows how dramatically we undervalue introverts, and how much we lose in doing so. Taking the reader on a journey from Dale Carnegie's birthplace to Harvard Business School, from a Tony Robbins seminar to an evangelical megachurch, Susan Cain charts the rise of the Extrovert Ideal in the twentieth century and explores its far-reaching effects. She talks to Asian-American students who feel alienated from the brash, backslapping atmosphere of American schools. She questions the dominant values of American business culture, where forced collaboration can stand in the way of innovation, and where the leadership potential of introverts is often overlooked. And she draws on cutting-edge research in psychology and neuroscience to reveal the surprising differences between extroverts and introverts.

Perhaps most inspiring, she introduces us to successful introverts--from a witty, high-octane public speaker who recharges in solitude after his talks, to a record-breaking salesman who quietly taps into the power of questions. Finally, she offers invaluable advice on everything from how to better negotiate differences in introvert-extrovert relationships to how to empower an introverted child to when it makes sense to be a "pretend extrovert."

This extraordinary book has the power to permanently change how we see introverts and, equally important, how introverts see themselves.
Review
This was my first audio book and it worked for me. I struggle to read non-fiction, but I want to read more. Since I love podcasts I figured this would be kind of a happy medium. And I actually picked this up after Sarah mentioned it on the DBSA podcast (still calling that).
The reader/performer (what do you call them?) was a major factor for my enjoyment. Her voice was very calming and matched the content perfectly. Probably 75% of the reason I listen to this podcast I do is because of their voices so I'm not surprised this jumped out at me.
I'm an introvert who struggles with anxiety, but I didn't realize how much that impacted my life. Some stuff immediately made sense to me, but I never gave much thought to introverts and the workforce. Throughout my life people have pushed me to be more extroverted and now I see why. But I also know that it's OK to be me.
The biggest take away was when she addressed parenting an introvert. If I have children I would go back to this as a refresher on embracing different personality types.
Sorry, if this is a weird review. I guess this an odd kind of book to review.
Thanks for reading!
Holly